Supermicro expands GPU Solutions Portfolio with deskside Liquid-Cooled AI Development platform, Powered by NVIDIA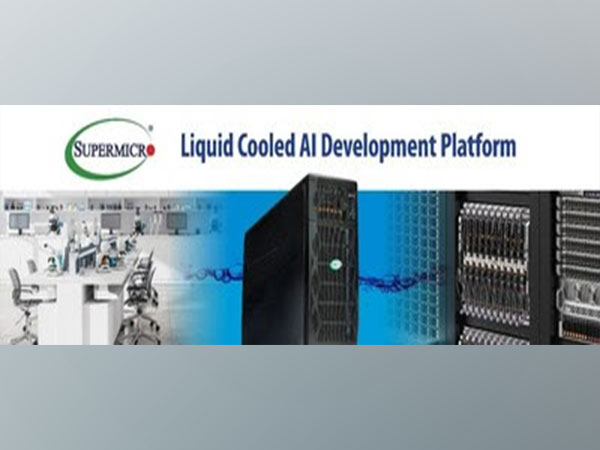 Mar 23, 2023
San Jose (California) [US], March 23 (ANI/PRNewswire): Supermicro, Inc. (NASDAQ: SMCI), a Total IT Solution Provider for Cloud, AI/ML, Storage, and 5G/Edge, is announcing the first in a line of powerful yet quiet and power-efficient NVIDIA-accelerated AI Development platforms which gives information professionals and developers the most powerful technology available today at their deskside.
The new AI development platform, the
, is an application-optimized system that excels when developing and running AI-based software. This innovative system gives developers and users a complete HPC and AI resource for department workloads. In addition, this powerful system can support a small team of users running training, inference, and analytics workloads simultaneously.
The self-contained liquid-cooling feature addresses the thermal design power needs of the four NVIDIA® A100 Tensor Core GPUs and the two 4th Gen Intel Xeon Scalable CPUs to enable full performance while improving the overall system's efficiency and enabling quiet (approximately 30dB) operation in an office environment. In addition, this system is designed to accommodate high-performing CPUs and GPUs, making it ideal for AI/DL/ML and HPC applications. The system can reside in an office environment or be rack-mounted when installed in a data center environment, simplifying IT management.
"Supermicro is taking its leading AI server-based technology and creating the most powerful AI and HPC development system in the industry, enabling a wide range of AI development and workloads to be run at a deskside," said Charles Liang, president and CEO of Supermicro. "This exciting new GPU system will also have a completely built-in liquid cooling system, allowing leading-edge CPUs and GPUs to run at maximum performance without additional infrastructure costs. We constantly listen to our customers' requirements to understand their IT needs and deliver the most optimized products anywhere."
This AI solution includes a three-year subscription license for
, the software layer of the NVIDIA AI platform, including NVIDIA AI Workflows, frameworks, pre-trained models, and infrastructure optimization. This comprehensive solution reduces the time for developers and users to become productive by having all software components pre-loaded onto the system.
"Advances in AI demand deskside systems built for the performance, speed, and energy efficiency today's customers need," said Ian Buck, vice president of hyperscale and high performance computing at NVIDIA. "Supermicro's NVIDIA-powered AI development platform provides users the ability to run the world's most demanding workloads right at their desktop."


At the heart of the Supermicro AI development platform are four NVIDIA A100 80GB GPUs which enterprises can use to accelerate a wide range of AI and HPC workloads. This system includes dual 4th Gen Intel® Xeon® Gold 6444Y processors running at a base clock rate of 3.6GHz, 512GB of DDR5 memory, six of 1.92TB NVMe storage devices, and an NVIDIA ConnectX®-6 DX 25GbE network adapter installed.
A self-contained liquid cooling solution is included to cool this high-end AI development platform while running whisper quiet. Upon receiving the system, users simply need to hook the system up to a power source and the network. This new AI development platform can be easily relocated as workloads shift without modifying rack-level infrastructure.
The Supermicro AI development platform, the
, is currently available and will be demonstrated virtually in the
, a global AI conference running through Thursday, March 23, 2023.
Supermicro (NASDAQ: SMCI) is a global leader in Application-Optimized Total IT Solutions. Founded and operating in San Jose, California, Supermicro is committed to delivering first to market innovation for Enterprise, Cloud, AI, and 5G Telco/Edge IT Infrastructure. We are transforming into a Total IT Solutions provider with server, AI, storage, IoT, and switch systems, software, and services while delivering advanced high-volume motherboard, power, and chassis products. The products are designed and manufactured in-house (in the US, Taiwan, and the Netherlands), leveraging global operations for scale and efficiency and optimized to improve TCO and reduce environmental impact (Green Computing). The award-winning portfolio of Server Building Block Solutions® allows customers to optimize for their exact workload and application by selecting from a broad family of systems built from our flexible and reusable building blocks that support a comprehensive set of form factors, processors, memory, GPUs, storage, networking, power and cooling solutions (air-conditioned, free air cooling or liquid cooling).
Supermicro, Server Building Block Solutions, and We Keep IT Green are trademarks and/or registered trademarks of Super Micro Computer, Inc.
Intel, the Intel logo, and other Intel marks are trademarks of Intel Corporation or its subsidiaries.
All other brands, names, and trademarks are the property of their respective owners.
This story has been provided by PRNewswire. ANI will not be responsible in any way for the content of this article. (ANI/PRNewswire)