SkyJumper Takes Trampolining to New Heights with India's First Open Competition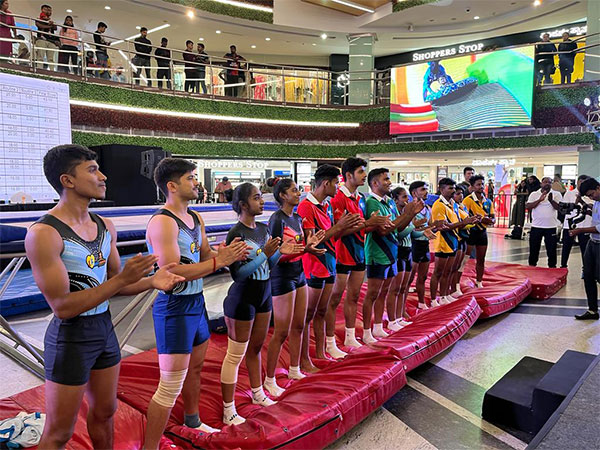 Jun 02, 2023
HT Syndication
Bangalore (Karnataka) [India], June 2: SkyJumper Sports & Amusement, the parent company of
, recently made history by successfully hosting India's inaugural Trampoline Competition. This ground-breaking event, organized by the leading start-up in the field, brought together 12 of the country's top athletes to showcase their extraordinary skills and compete for the coveted title. The competition not only thrilled the audience with awe-inspiring athleticism but also highlighted the remarkable growth of SkyJumper as a prominent player in the sports and entertainment industry.


SkyJumper Sports & Amusement, the driving force behind SkyJumper Trampoline Parks, has become a household name in India. With its presence in ten cities across the country and ambitious plans for expansion, SkyJumper offers exhilarating experiences for people of all ages. From hosting memorable birthday parties to facilitating corporate team-building activities and school day camps, SkyJumper Trampoline Parks have become the go-to destination for fun and entertainment.
In the past five years, SkyJumper has experienced tremendous growth, transforming into one of India's leading start-ups. The company's commitment to providing exceptional experiences, coupled with its innovative approach to recreational activities, has contributed to its rapid ascent in the industry. SkyJumper Trampoline Parks offer a safe and engaging environment where individuals can unleash their energy, develop their physical abilities, and have an unforgettable time.


India's First Trampoline Competition, hosted by SkyJumper Bangalore, perfectly embodies the company's dedication to promoting sports and supporting athletes. The event showcased not only the incredible talent within the country but also the immense potential of trampolining as a thrilling and competitive sport. The presence of Kaushik Bidiwala, the treasurer of India's Gymnastic Federation, at the competition further solidified SkyJumper's reputation as a key player in the industry. His support and endorsement underscored the significance of initiatives like these in fostering the growth of sports in the country.
In addition to the intense competition, the event also incorporated moments of engagement with the enthusiastic crowd. Athletes interacted with spectators during the breaks, sharing their experiences and distributing free jump passes for SkyJumper Bangalore Park. Such initiatives aimed to encourage the public to explore the joy of trampolining and embrace an active and healthy lifestyle.


The founders expressed their immense satisfaction in organizing and hosting India's First Trampoline Competition. They reaffirmed their unwavering commitment to promoting the sport, supporting athletes, and providing unparalleled entertainment experiences for their patrons. "We are thrilled to witness the incredible talent and dedication showcased by these athletes during the competition. SkyJumper Trampoline Parks have always aimed to create A Happy Place To Be, and this event allowed us to take a giant leap forward in fostering a vibrant trampolining community in India," said the founders.
The competition concluded with an electrifying award ceremony, where the winners were honored and celebrated for their exceptional performances. The victorious athletes expressed their joy and gratitude, acknowledging the profound impact of the competition on the future of trampolining in India:
"Participating in India's First Trampoline Competition has been an incredible journey. The support and recognition we received have motivated us to reach even greater heights in our sport. We are grateful to SkyJumper Sports & Amusement for providing us with this platform to showcase our talent," remarked one of the winners.
India's First Trampoline Competition has set a remarkable precedent for the future of trampolining in the country. With SkyJumper Sports & Amusement leading the way, the sport is poised for continued growth and success. As the company expands its footprint and solidifies its position as a leading startup, SkyJumper Trampoline Parks will continue to provide exhilarating experiences for people across India.
Moreover, as trampolining is recognized as an Olympic sport, initiatives like India's First Trampoline Competition pave the way for Indian athletes to strive for Olympic glory.
(Disclaimer: The above press release has been provided by HT Syndication. ANI will not be responsible in any way for the content of the same)