MEIL marks its presence in a big way at the IEW 2023 in Bengaluru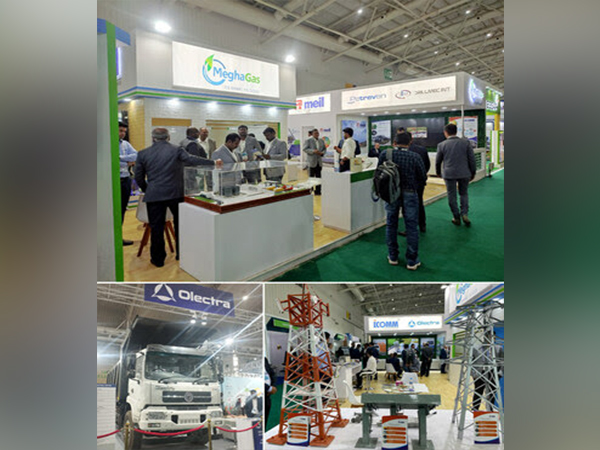 Feb 07, 2023
Bengaluru (Karnataka) [India], February 7 (ANI/PRNewswire): The first significant event under India's G20 Presidency, India Energy Week (IEW) 2023, began with a big start today. Prime Minister Narendra Modi inaugurated the event.
Megha Engineering & Infrastructures Limited (MEIL), along with its subsidiary companies - Drillmec SpA, Petreven SpA, Megha City Gas Distribution Private Limited (MCGDPL), Olectra Greentech Limited and ICOMM Tele Limited are participating in a big way in the event. These companies have a strong presence across various energy sectors covering Oil & Gas, City Gas Distribution, Electric Vehicle Manufacturing, and Power & Renewable Energy.
MEIL Managing Director PV Krishna Reddy; Doraiah, Director of Hydrocarbons Division at MEIL, and other top management members participated in this India's first energy exhibition and conference.
India's first electric tipper from the stable of Olectra also made its debut at the event. The initial variant of the tipper can travel a range of 250 km/charge and be fully charged in two hours. It will be available in a standard 16 cubic metre load body with multiple variants. The Gross Vehicle Weight (GVW) is 28,000 Kg with a tipping angle maximum of 46 degrees, maximum gradability of 25 per cent, maximum torque of 2,400 Nm, and a 6X4 axle configuration. It is set to be a game-changer for the industry.
Doraiah, Director of Hydrocarbons Division at MEIL, said, "The energy landscape is competitive and challenging. The conference is a good platform to address today's energy needs and work on Prime Minister Modi's COP26 pledge on cutting emissions to net zero by 2070 and the vision of Amrit Kaal."
In line with the conference's theme, "Growth, Collaboration, Transition," MEIL's companies operate with a focus on reducing carbon intensity while ensuring India's long-term energy security sustainably. Doraiah added that MEIL, through its subsidiary companies, Drillmec, Petreven, Olectra Greentech, MCGDPL and ICOMM, is playing its role in India's rising prowess as an energy transition powerhouse.


MEIL's role in the low-carbon economy is through the City Gas Distribution system. Megha City Gas Distribution Private Limited (MCGDPL), India's second-largest CGD company with 80 CNG stations, ensures energy security through a robust infrastructure. It operates in ten Indian states across 22 Geographical Areas, covering about 10 per cent of India's area and around 7 per cent of its population.
Olectra Greentech Limited's fleet of electric buses plies across 13 Indian states, reducing 90,000 tonnes of carbon emissions across India. In the renewable energy sector, MEIL has executed several solar projects, including India's first canal-top solar project in Gujarat, a unique project that preserves water from evaporation.
MEIL is among the significant companies whose strong presence in the energy arena enables India to meet its growing energy demands. It is forging ahead into creating a better energy system to accelerate the clean energy transition in India.
Megha Engineering and Infrastructures Ltd. (MEIL) established in 1989, is one of the fastest-growing infra companies in India. Over the years, MEIL has constructed numerous structures like large civil constructions, oil and gas pipelines, pump houses, large water treatment plants, dams, reservoirs, power transmission lines, power generation units, tunnels - and all of them have an important role to play in improving the quality of life of the common man for many years into the foreseeable future.
For more information, please visit:

This story is provided by PRNewswire. ANI will not be responsible in any way for the content of this article. (ANI/PRNewswire)