Lenovo it4smb campaign, in association with The Economic Times, showcases the true potential of technology for businesses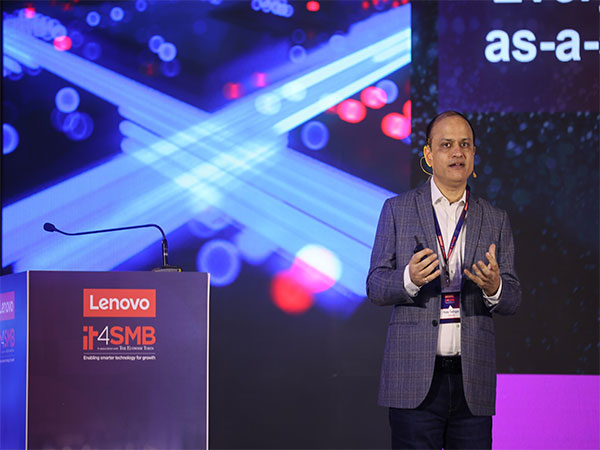 Mar 20, 2023
New Delhi [India], March 20 (ANI/Mediawire): The Mumbai edition of the Times Techies Tech Drive, part of Lenovo IT4SMB initiative, hosted the who's who of the tech world to chart out the growth roadmap for SMBs.
From highlighting artificial Intelligence as a business enabler to identifying the technologies needed for faster business growth; a special summit on the trends in the domain of technology and innovation, "Lenovo IT4SMB, in association with The Economic Times", underpinned small and medium businesses as the backbone of India's next tech revolution. The Times Techies Tech Drive was recently held in Mumbai, after very successful editions in Hyderabad and Bengaluru.
The summit started with Ajay Sehgal, Executive Director, Commercial Business, Lenovo India setting the tone by focusing on the continuous change taking place in the realm of technology and its advantages for SMBs. In his address, Sehgal highlighted that "small and large businesses are also now rapidly automating their manual processes into digital processes. Using blockchain technology, companies don't have to centralise their databases anymore. Now, decentralization of databases is allowing companies to take key business decisions quickly."


The keynote address by Phalgun Kompalli, Co-founder, upGrad highlighted the limitless growth opportunities for Indian entrepreneurs due to the scale that the Indian economy offers to businesses. "There lies a huge opportunity to link the data that is available with latest technologies to drive personalised learning outcomes. Technology can help entire exercise to be done at a very large scale; not just in education but across sectors like banking and financial services etc.," said Konpalli.
The summit then flowed into fireside chats on 'Artificial Intelligence as a Business Enabler' and 'Looking into the Future: Web 3.0 for Businesses'. These were followed by a focused panel discussion on 'Technologies to Accelerate Business Growth'.


'Artificial Intelligence as a Business Enabler'
One of the biggest advantages that Indian entrepreneurs have is the large pool of analytical and mathematical talent available locally. This advantage can be best tapped through the use of artificial intelligence since one in five global AI researchers are based in India. Srikanth Velamakanni, Co-founder, Fractal Analytics highlighted the immense potential that AI offers to businesses. "We are at a significantly disrupting and opportunistic moment in India where AI can be used in multiple ways, including for critical areas like increasing productivity. Across sectors like finance, delivery and manufacturing, AI can help companies increase their revenues and make their investments more effective," said Velamakanni.


'Looking into the Future: Web 3.0 for Businesses'
Web 3.0, though still in a developing phase, offers many prospects for businesses since it is decentralized internet built on an open blockchain network that is not owned and controlled by large entities. Explaining this further, Tarun Katial, Founder & CEO, coto said, "The SMB revolution that is taking place right now is where you are trying to get collaborative work done between vendors, users and other stakeholders. The whole effort is geared towards using technology to motivate everyone and also make it rewarding. This transformational change is being driven by Web 3.0."


'Technologies to Accelerate Business Growth'
The panel discussion had industry leaders elucidating how businesses can scale up by deploying customised technology tools. To thrive in ever-intensifying competition, SMBs will need to increasingly rely on tailor-made solutions that not only solve problems but are able to pre-empt them. This was clearly highlighted by the discussion. Yogesh Dhingra MD & CEO of Smartr Logistics echoed this and said, "in running any business, efficiency and accuracy are of paramount importance. Both these parameters can be achieved with the help of digital and technology-based solutions."
Companies also need to broaden their horizons to think big picture in terms of their technological evolution and growth. "To implement any technology system, a company needs to first have a clear vision of its business and growth prospects. When we built our platforms, our vision was one billion-a-day architecture. It was our vision that triggered us to deal with large volumes and create an infrastructure that is able to absorb such large scale," said Saiprasad Nabar, Chief Platform Officer, National Payments Corporation of India.
Due to their size, SMBs are not always able to make large investments in technology and need to make decisions keeping costs under control. Ranjeet Walunj, VP Engineering, CleverTap said, "We are dealing with trillions of data points and the notifications and engagement with the end user are as high as 20 billion a day. These numbers require a deep and evolved tech infrastructure. But before companies take major technical decisions, they must also be aware that it is always a trade off in terms of cost and other factors."
Meanwhile, Vikram Chauhan, Director & Head of Enterprise & Government Business, Intel India added that "all aspects of our lives, from corporate to personal have been impacted by digital transformation. Intel, in partnership with Lenovo, can play a key role in increasing the pace of the digital transformation through its solutions."
The summit, which had the who's who of industry in Mumbai, culminated with the IT4SMB awards ceremony. These awards recognise those SMBs in Maharashtra that have demonstrated exceptional technology excellence. The awardees are companies that are leading the way for greater tech adoption amongst SMBs. The jury comprised of Satyavrat Mishra, Head Corporate IT, Godrej Industries, Amit Saluja, Senior Director and Head NASSCOM, Gandhinagar, Abhay Bapna AVP IT, Adani Wilmar and Manoj Chugh, an IT veteran.


IT4SMB awards were given to ten companies across six different categories.
Shreyas Doshi MD, Shaikh Mustaq Ahmad CFO and Harsh Doshi, Director of Globus International Coaters were judged as the winners in the 'Emerging SMB' category. First runner-up in the same category was Shashank Mehta, Founder & CEO, The Whole Truth Foods.
Pravash Dash, Co-Founder & CEO of Arthan Finance was adjudged the winner in the 'Small Sized Business' category. Rohan Mirchandani, Rahul Jain and Uday Thakker, Co-founders of Epigamia were adjudged as the runners-up in the same category. In the 'Mid-Sized Business' category, Sunil Rohokale, Group MD and CEO, ASK Investment Managers was adjudged the winner. First runner up in the same category was Parag Chheda, Executive Director, Prince Pipes and Fittings. In the 'SMB Emerging Leader of the year' category, Kunjesh Ramesh Negandhi, CEO of DIBC & ADOCTOR was declared the winner. Ramkumar Mohan, CIO of Air Works India Engineering was adjudged as the 'SMB CTO/CIO of the year'. Vijayraj Bhosale, Head, IT, National Credit Guarantee Trustee Company was the runner-up in the same category. Harsh S Bharwani, CEO & Director of Jetking Infotrain was given a 'Jury Special' award.
This story has been provided by Mediawire. ANI will not be responsible in any way for the content of this article. (ANI/Mediawire)