Geetika Saigal, founder of Beeja House, launches BBL, the ultimate launchpad for Authors in 2023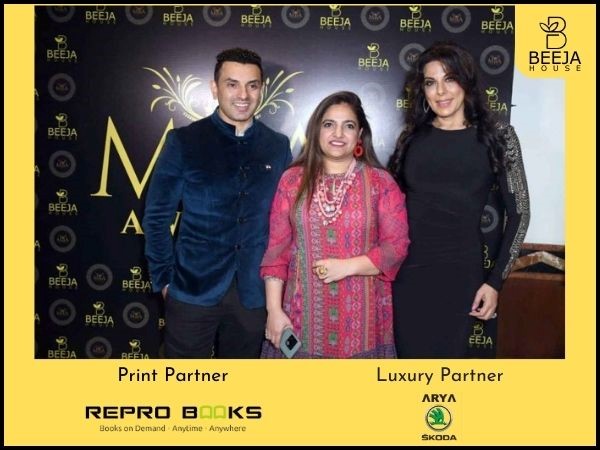 Feb 06, 2023
New Delhi [India], February 6 (ANI/ATK): With great pride, joy & style Beeja House, India's 1st and only Mentored Publishing House launched the ultimate launchpad for its Authors, BBL (Beeja Book Launch) on 21st January 2023 at the luxurious venue, The Sheraton, New Delhi. Unique in itself, Beeja House is on a mission to turn stories into books & people into brands and takes you from Blank Page to Published Author & Beyond, to help you build a strong Personal Brand. In just over a year, they've taught 10000+ people their proprietary BESTSELLER Method to write a book, launched & published many bestselling authors and built India's most powerful Author Mastermind comprising of CXOs, leaders, doctors, PhDs, technocrats, environmentalists, change makers, homemakers and even young students, many of whom graced the event.
Geetika Saigal, Founder of Beeja House & Creator of BBL, sharing her vision said, "If you want to grow your mind, start reading; if you want to express your thoughts, try writing; and if you want to build your voice, become a published author."
The evening was opened by Host Pooja Yadav Kaif's energising note, followed by Geetika's warm welcome keynote. Thereupon, the stage was set ablaze with the spotlight on 12 authors who launched not just their books but also their new identities. Sharing their journeys from Blank Page to Published Author, the authors treated the audience to heartfelt moments of joy, pride & fulfilment. From a glitzy Book Launch to a sombre Book Signing Session, from the proud Book Walk to the fun Networking with the audience, from laughter to sharing their life Vision, the newly published authors and the audience both had a blast!
Whilst the authors themselves came from varied backgrounds, from accomplished Doctors to Life Coaches, Entrepreneurs to Homemakers, Corporate Leaders to Doctorates, the common factor binding them all together was the starting point of their journeys -- attending the legendary '5-Day Write Your Way to Success Author Workshop' conducted by Geetika Saigal herself. The journey from Blank Page to Published Author was filled with Eureka moments and the authors passionately shared their experience with a LIVE audience of 1000+ attendees, in-person & online.
The on-stage felicitation of the Authors from Beeja House, who are already rocking the Hot New Bestseller charts in the respective book genre categories, included:
1. Poonam Sehgal, Author of Soham
2. Dr Suchitra, Author of Roadmap to Managing Divorce: 6 Weeks to Happily Even After
3. Utkarsh Shukla, Author of Uncover the Awesome YOU!
4. Sridhar Krish, Author of Eternal Flames of Freedom
5. Syed Nadeem Ahmed, Author of 3 Powerful Codes of real estate marketing and automation
6. Seema Rani Naik, Author of Ordinary to Extraordinary
7. Dr Chitra Reddy, Author of Reboot. Reinvent. Recharge.
8. Anjali Chawla, Author of Unwind Reality
9. Dr S Manohar, Author of Womb to Harvard
10. Anil Nair, Author of Live by Choice, Not by Chance
11. Priyanka Kathait, Author of Uplift Yourself as a Homemaker
12. Sandeep Kerkar, Author of Meeting with Prosperity - The Tarzan Way
The Grand Finale of the Event saw the launch of yet another power platform, the Me Brand Accelerator Awards 2023. In Geetika's own words, "We believe each one of us is born with the potential to create our own identity, leave our unique thumbprint and impact our world in our own way. It is to take you to the next level in your professional mission, that we are launching the ME BRAND ACCELERATOR AWARDS, a platform to recognise, reward & celebrate those who are shaping the future of our economy -- inspirational Authors, talented Creators, innovative Entrepreneurs, the inspirational Leaders."


Geetika's inaugural address & Thank You note was followed by Celebrity Guest Bollywood actress Pooja Bedi's enlightening talk and Guest of Honour Political Analyst & TV personality Tehseen Poonawalla's impeccable stage presence & persona.
Amongst the 25 Awardees were cricketing legend Atul Wassan, Filmfare award-winning actress Lenaa Kumar, veteran actress Neesha Singh, MD of Krsnaa Diagnostics Pallavi Jain, Climate Change activist R Srinivas, MD Rampur Fertilizers Anshuman Khaitan, Fashion Designers Gauri & Nainika and Leena Singh, and F1 racer Dr Niharika Yadav. Awardees also included leading inspirational Entrepreneurs, Leaders & Authors - Bro Thockchom, Poonam Sehgal, Rohini Satyan, Seema Rai Naik, Dr Rashmi Sarkar, Dr Suchitra, Syed Nadeem Ahmed, Dipali Bhasin, Kena Shree, Kopal Khanna, Tarun Gautam, Sanjiv Goyal, Rohit Arora, Ketan Bhatia, Ajit Tiwari, Gautam Sablok, Viresh Verma. Spotted amongst the guests were influential leaders in the Indian Book Trade community including Anuj Bahri of Bahrisons Bookstores and Afsar Beg of Midland Book Shops.
The MBA Awards team also announced the Special Cause of helping individuals discover their true self, create their own identities and build their inimitable personal brands. Just Billi, the athleisure brand by Rashmi Chhabra, delighted the guests with Delhi's top socialites & models doing a Walk for the Cause, in their latest collection.
The evening ended with thanks to Luxury Partner Arya Skoda and Printing Partner Repro Books. Repro Books shared, "We are delighted & honoured to partner with Beeja House, who share our vision of changing the publishing space with our One Book at a time concept."
As they bid adieu, each guest was gifted Geetika's No.1 Bestseller 'The Changing Room' as well as other bestsellers by Beeja House Authors. Reminiscing back to her first TEDx Talk on Reviving Reading, Geetika aptly put it, "After all, authors need readers! And reading transforms you as a person. If each one of our attendees reads just one of our books, BBL is indeed a smashing success. Change happens one thought, one word, one book, one author, one reader at a time."
Indeed, a day of celebration, a brilliant kick-start to 2023 and a promise from the Founder Geetika Saigal to be back with Team Beeja to launch new books, new authors and new ripples of change in the new world. For more details, visit Beeja House website at

This story has been provided by ATK. ANI will not be responsible in any way for the content of this article. (ANI/ATK)