Beyond traditional paths: Exploring finance through new age courses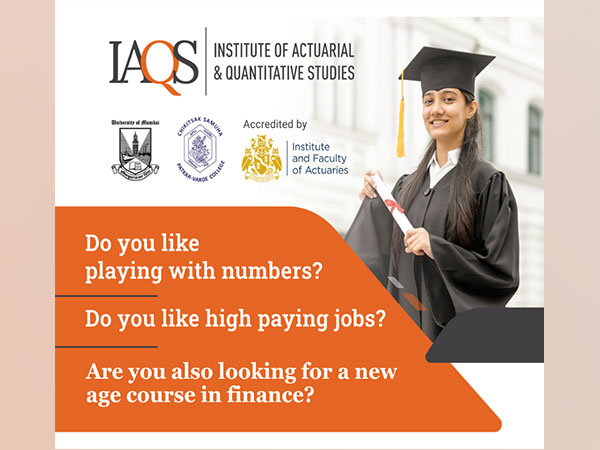 Jun 02, 2023
Mediawire
New Delhi [India], June 2: Are you wondering what to pursue after 12th? Well you are not alone! As students received their Board Results last week, they were confronted with the weighty decision of their future plans.
Traditionally, students interested in pursuing finance in India have been limited to a handful of professional courses like CA, ACCA or MBA Finance. But they don't have to restrict themselves to such a narrow selection anymore. The fields of actuarial science and quantitative finance are upcoming avenues that boast a growing demand in the market. These niche fields are unable to find applicants with the required skill set to fill these new jobs due to a lack of awareness.
Educational universities have been closely monitoring the rising need for such niche domains in India, which is why some of them are offering specialized degree courses. Such recognized degree programme are
University of Mumbai degree programme offered by Patkar-Varde College in association with Institute of Actuarial and Quantitative Studies (IAQS).
These programs are a blend of technical subjects and business studies allowing students to learn actuarial techniques alongside practical skills like communication, presentation, networking and programming.
What sets IAQS apart from other finance programs
The institute's commitment to providing MBA-like facilities is evident through its focus on experienced faculty, with 70% of the teaching staff comprising seasoned professionals from the field. The BSc (Actuarial Science and Quantitative Finance) program is
for exemptions giving it global recognition. This also means that a graduate securing high marks from this course would be exempt from appearing for the IFoA's six core subjects, which serves them with a significant advantage over other financial degrees.
Internships and Placements
With a dedicated placement cell, IAQS encourages students to gain industry experience from their second year onwards, setting them on a path of early professional growth. They boast stellar placement numbers and an internship program that allows students to work with an impressive cohort of organisations, with more than 70% of students securing internships in esteemed organisations.
These paid internships last an average of 6-12 months, with the highest monthly stipend of around INR 50,000. These internships span across diverse domains in the BFSI sector, ranging across investment banking, risk assessment, insurance, and private equity to name a few. This exposure helps students apply their learning and gain valuable insight in deciding their field of interest for their degree specialisation.
This effective learning process is also reflected in IAQS's high placement numbers, in various companies like Deloitte, KPMG, Mercer, Milliman, Kotak and other top financial MNCs. These career opportunities come with lucrative salaries, the highest package for a bachelor's fresher amounting to Rs 12.6 LPA.


Networking
The monthly industry connect sessions with leaders of various industry help students get valuable insights into future opportunities in various fields.
at IAQS includes CXOs from top insurance and banking companies in india.
Devansh Jain, a third year student at IAQS, highlighted the advantage this holistic course structure gave him. As someone who aims to be a fund manager, Jain started preparing for the CFA exam while studying at IAQS.
"There are three levels in CFA, my course at IAQS has completed at least 75 per cent of the first level and 50 per cent of the second level," Jain said. "It has given me a really strong financial base to pursue the rest of the
," he added.
Jain also highlighted the importance of the internship program at the institution. Having completed 18 months with an insurance broking consultancy, and a second internship at Acies Consulting he feels prepared to enter the corporate workforce.
This blend of academic expertise and industry experience ensures that students receive a comprehensive education that reflects the current state of the financial industry. IAQS's E- Cell and Emerging Risks Research Center gives them a chance to work on real world problems with corporates and assists them on their entrepreneurial endeavours.
IAQS continues to raise the bar for financial education in India, by seamlessly blending the best aspects of MBA and engineering programs across the country. By offering competitive placements, internships with attractive stipends, faculty with industry experience, a robust curriculum, and international accreditation, IAQS is preparing its students to become the industry leaders and innovators of tomorrow.
To know more about the programme, visit:

You can also schedule a free counselling session: http://bit.ly/counselling-session
Or call: +91 93727 77615.
(Disclaimer: The above press release has been provided by Mediawire. ANI will not be responsible in any way for the content of the same)