Matchup breakdowns: Richmond at Virginia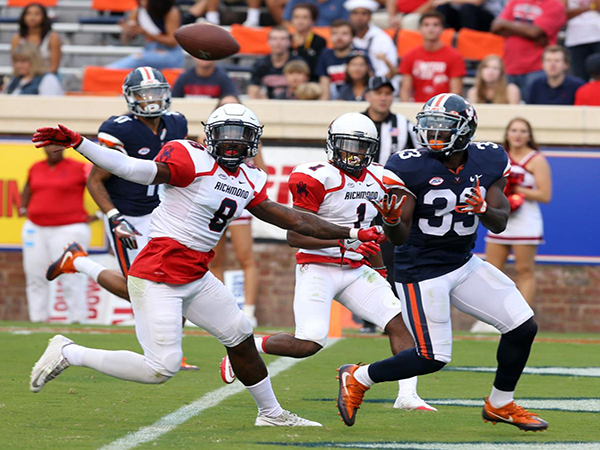 Sep 01, 2018
Richmond [USA] September 1: It's tough to give a definitive edge to either quarterback, since both will basically be stepping into Division I starting roles on Saturday. That said, Bryce Perkins did, at one point, have a scholarship to Arizona State, and he now has one at Virginia. The expectations are high for the JUCO transfer. Kevin Johnson, who started several games during Richmond's 2016 FCS playoff run following Kyle Lauletta's season-ending injury, is now getting his shot to lead the Spiders in his fourth season at Richmond. Edge, Virginia.
Running backs
Richmond was not a rush-heavy team last year, which makes sense. Lauletta was one of the best college quarterbacks in the country and the Spiders had a talented receiving corps. Xavier Goodall ran for 486 yards as a freshman last season, and maybe his role will increase this year. Jordan Ellis broke out last season for UVa, posting six touchdowns. He's, by all accounts, the heart of the team. Edge, Virginia.
Receivers/tight ends
The Cavaliers return Joe Reed and Olamide Zaccheaus, but they lost Doni Dowling and Andre Levrone, who produced a significant amount of their yards and touchdowns last season. Meanwhile, Richmond returns its three-headed monster at receiver with Dejon Brissett, Tyler Wilkins and Contrelle Simpson all back. Edge, Richmond.
Offensive line
The offensive line will not be a strength for either team. Richmond is fairly inexperienced, while Virginia is dealing with injuries to R.J. Proctor and Tyler Fannin, who was a projected up-and-comer. But UVa did bring in OG Marcus Applefield from Rutgers, and Jake Fieler recently returned from injury. Edge, Virginia.
Defensive line
Richmond lost All-CAA DL Brandon Waller after last season. Virginia lost a ton of depth, too. The Cavaliers' biggest departure was DE Andrew Brown, who grew into a really good player in his final season. UVa was rattled with injuries and will be starting a freshman at DT. It's really tough to say one side will be better than the other. Edge, push.
Linebackers
Both teams return a significant amount of talent here. Richmond's leading tackler, Justin Rubin, is back, as is Dale Matthews Jr. But Virginia, despite losing Micah Kiser, is confident in Jordan Mack as his replacement. There's also a much-improved Charles Snowden and experienced veterans like Chris Peace and Malcolm Cook. Edge, Virginia.
Secondary
This is probably the one unit on the team that UVa coach Bronco Mendenhall doesn't lose a lot of sleep over. Brenton Nelson and Joey Blount have created a good problem at safety, with Nelson, the reigning ACC defensive rookie of the year recently named as a backup. There's also a lot of experience at CB. The Spiders did record 13 interceptions last season. Edge, Virginia.
Special teams
The kickers from both teams really didn't extend past the 40-yard range last season. But Virginia does have one of the nation's best punters in Lester Coleman. And Joe Reed did return two kickoffs for touchdowns - two more than Richmond did last year. UVa should feel pretty confident in its special teams game entering 2018. Edge, Virginia.
Source: WRIC